Tango lessons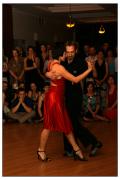 Group lessons
Experienced tango teacher and dancer Aigars Stirna is giving regular Argentinian tango, milonga (faster dance) and tango-vals (Vals Cruzado) classes for groups for beginners and dancers with experience in Riga, other cities of Latvia and abroad. Teaching languages: Latvian, English, German and Russian. Every group lesson is organized by taking into acount the level and experience of participants. More information about group lessons in the chapter "APMĀCĪBA" Latvian version.
Private lessons
About private lessons with Aigars
,
please, feel free to call Aigars (+371) 26344457 or write
aigars@tangostudio.lv
. The time, place and fee according to the agreement. The languages English, German, Latvian or Russian, some French and Spanish are spoken.
FOR MORE INFORMATION IN RUSSIAN, ENGLISH, GERMAN OR FRENCH ABOUT GROUP AND PRIVAT TANGO LESSONS, MILONGAS AND OTHER QUESTIONS, PLEASE, CALL +371-26344457 AIGARS STIRNA, TANGO TEACHER AND DIRECTOR OF TANGOSTUDIO.